Ford Parkway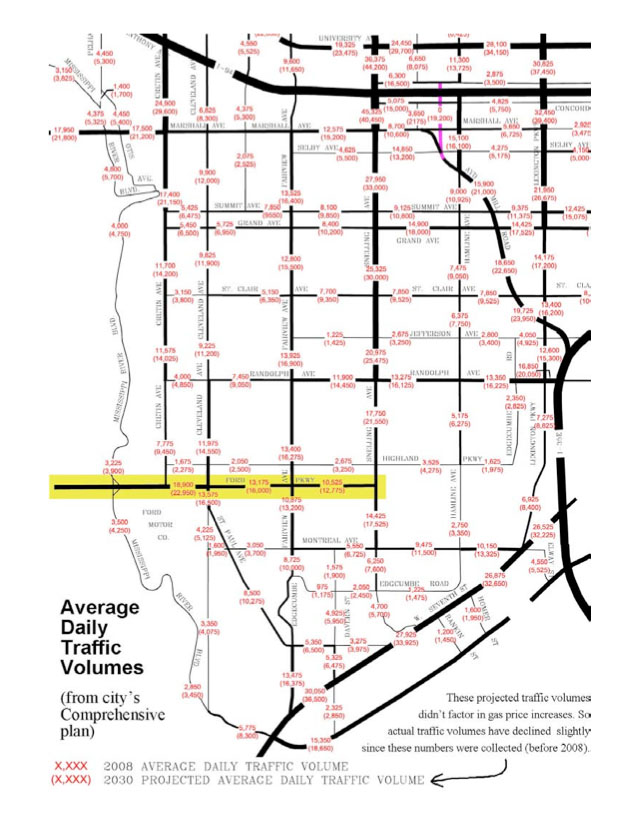 Ford Parkway connects Minneapolis with a major shopping district, a library, Hillcrest Recreation Center, Highland Arena and the rest of Saint Paul.
Bicyclists of all skill levels use Ford Parkway to reach these destinations. It has the only bikeable bridge to Minneapolis south of Lake Street. Some cyclists bike in the street but, due to traffic speeds and the lack of safe bike facilities, many choose to ride on the sidewalks.
In addition to pedestrians and cyclists, Ford Parkway is used by motor vehicles. From the Mississippi River to Cretin Avenue, Ford Parkway carries 18,900 vehicles per day. East of Cleveland the numbers drop to 13,175 and then 10,525 vehicles per day. Compare this to daily vehicle counts on other two-lane and four-lane streets like Fairview, Grand, Lexington and streets have bike lanes and/or bike signage and pavement markings.
The eastern portion of Ford Parkway now has paint bike lanes from Howell Street to Snelling Avenue. West of Howell bike lanes require curb work. If and when Ford is reconstructed, we strongly advocate that the lanes be extended to the bridge.